Starting Small And Growning Up Healthy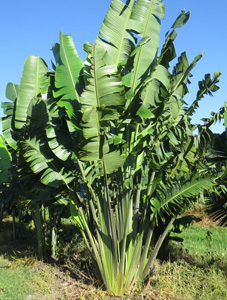 Travelers palms are one of the most misunderstood of all palm trees? Palm City Nursery and Landscaping can help you decide if these extra large, very tropical and wholly unique plants are right for your landscaping project.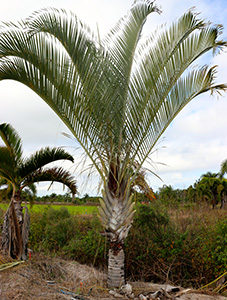 Triangle palms are, yet another unique palm from Madagascar. This island off the East coast of Africa is home to the Travelers palm and the Silver Bismarckia palm. All three of these palms thrive in Southwest Florida where they're grown in our fields, on Pine Island.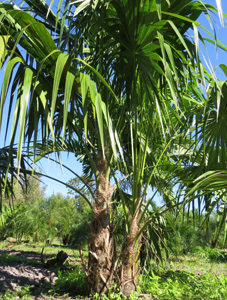 Thatch palms are a slow growing, native palm of Southwest Florida. Palm City Nursery and Landscaping can provide you with field grown and container Thatch palms. If you are a home owner or landscaping professional with a project in Bonita Springs, Naples, Punta Gorda, Cape Coral, Port Charlotte or Fort Myers, then our friendly team can help you choose the Thatch palms right for your project.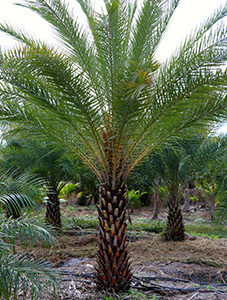 Sylvestris palms have many different nicknames. The ones we hear most often are Sylvester, Silver Date Palm, and Toddy Palm. Do you call them something different? Palm City Nursery and Landscaping is one of the top palm growers of Sylvestris palms in Southwest Florida.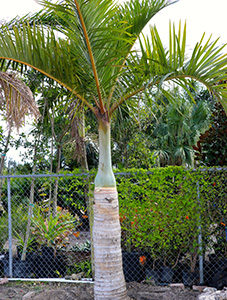 Spindle palms are slow growing palms that do well in the year round warm temperatures of Southwest Florida. Landscape architects and homeowners who want to create a unique landscape design with several levels in cities like Punta Gorda, Fort Myers and down to Bonita Springs should consider Spindle palms.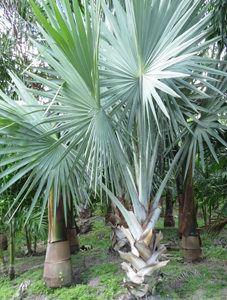 Silver Bismarckia palms are stunning fan palms and once they're established, they are low maintenance. Madagascar is the place of origin for the majestic silver blue fan palm. Palm City Nursery and Landscaping is dedicated to providing our customers with the best palms and the information they need to keep their palms healthy.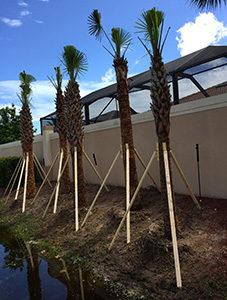 Sabal palms are the official Florida state tree. Southwest Florida is a prime breeding ground and they grow naturally in great numbers on their own. Palm City Nursery and Landscaping has access to rural fields where Sabal palms grow. We have permission to dig these beautiful and hearty palms from rural fields and deliver them to your location.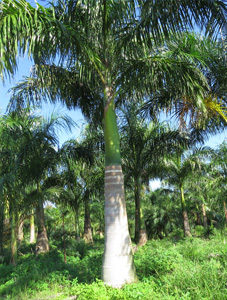 Royal palms are the tallest of all palms! Palm City Nursery and Landscaping, is a grower of field grown materials on Pine Island, in Southwest Florida. Their dignified appearance will elevate landscaping projects.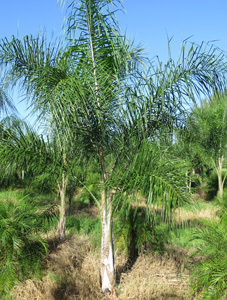 Queen palms are majestic, fast growing palms found in tropical regions throughout the world. Palm City Nursery and Landscaping is one of the leading growers in Southwest Florida. We are experienced professionals with fields located on Pine Island.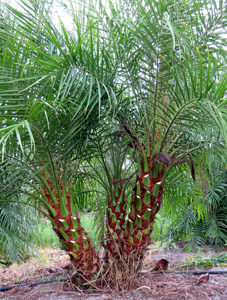 Looking for Pygmy Date Palms? Palm City Nursery and Landscaping is one of the leading growers of single, double, triple and multi Pygmy Date palms. You'll notice this and another incredibly popular palm, Adonidia Palms, in a majority of residential and commercial landscapes.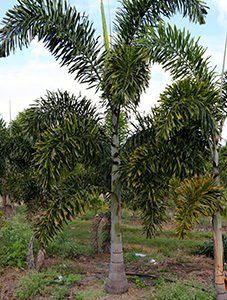 Foxtail palms are a staple of the landscaping in Southwest Florida. Palm City Nursery and Landscaping is one of the top growers of Foxtails. We grow them locally, on Pine Island. They are sold to retail and wholesale clients from our nursery in Cape Coral, Florida.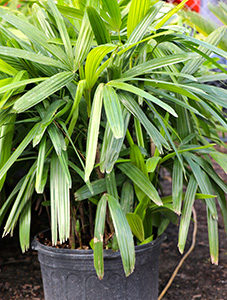 Lady palms, or Rhapis excels present like a bush and not a palm tree. They're lush, dark green bushy appearance shows well in Southwest Florida landscapes for homes and commercial properties.
Fishtail palms are a clumping palm that's known as a bi-pinnate palm tree. They're often selected for use as a screening material or centerpiece planting.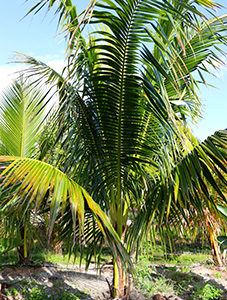 Coconut or Maypan palms will grow in most any location within the growing zones of 10B-11. The average year round temperature in Southwest Florida is approximately 80 degrees year round.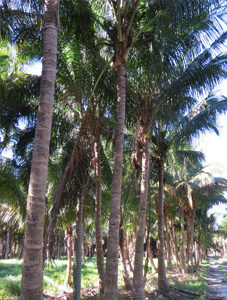 The second most cold hardy palms thriving in Southwest Florida are Chinese Fan palms. Native to both Southern China and Japan, Chinese Fan palms do particularly well in the cities of Port Charlotte, Cape Coral and Naples.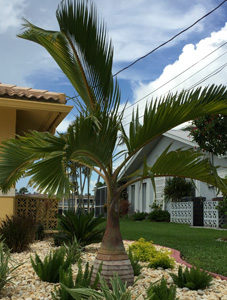 Bottle palms are tropical palms known for their small stature. At Palm City Nursery and Landscaping we grow a variety of popular landscaping palm trees for both landscaping professionals and "Do-It-Yourself" homeowners.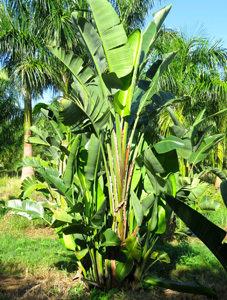 Bird of paradise palms will work well as an indoor potted plant and as an outdoor plant. At Palm City Nursery and Landscaping we grow the Bird Of Paradise palms outdoors in our fields where they receive direct sunlight from the warm Southwest Florida sun.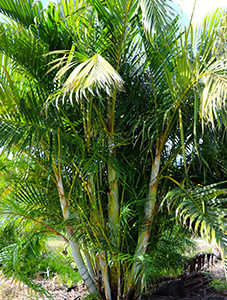 Palm City Nursery and Landscaping serves homeowners and landscaping professionals in the cities of Naples, Bonita Springs, Fort Myers, Cape Coral, Punta Gorda and Port Charlotte.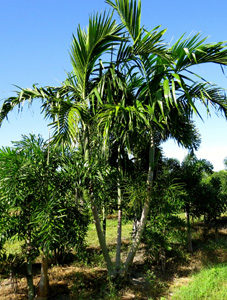 The cold hardiness of our Solitaire palms is just right for cultivation in our palm groves on Pine Island. We can dig and deliver the palms you tag, directly to your job site in Cape Coral, Fort Myers, Port Charlotte, Bonita Springs or Naples.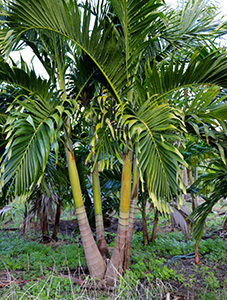 Adonidia palms are a well adapted to our area. Their origin is in the Philippines. Even though Adonidia plams are not native to the Southwest Florida landscape, they have become a staple of the residential and commercial landscaping industry.